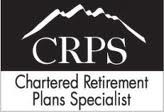 18 Dec

Chartered Retirement Plans Specialist

Posted at 01:45h

in Uncategorized
Scott Smith Receives CRPS Designation
The College for Financial Planning®, located in Denver, is pleased to announce that Scott Smith has successfully completed the CHARTERED RETIREMENT PLANS SPECIALIST or CRPS® Professional Designation Program.
Graduates of the CRPS® Professional Designation Program must complete a specialized independent study course that provides a foundation for giving retirement planning advice to corporations and small businesses. The course covers key issues involved in all phases of establishing retirement plans within businesses. The designation is awarded to students after they successfully complete the course, pass a final examination, and sign a code of ethics commitment and declaration form.
With all of the options available to today's plan sponsors, managing retirement plans for a business or small company can be a daunting prospect. CRPS® designees can provide you with an understanding of how to establish an efficient retirement plan and ensure regular compliance with
plan rules.
Scott, a CPA in our office, is also a Certified Financial Planner®. He has consulted with a wide range of clients, from Fortune 100 companies to individuals below the poverty line, regarding their financial health. He is excited to help you plan and establish a retirement plan that will benefit you and your company.
For more information on our financial planning services, call Smith, Kunz and Associates at (208) 356-8500. We are happy to answer any questions you have!